Hoa Binh Lake – Mai Chau 2 days 1 night
The master plan of developing Hoa Binh lake national tourist zone, Hoa Binh province toward 2030 has been approved by Prime Minister. Accordingly, Hoa Binh lake national tourist zone  is in the area of  Hoa Binh city ( Thai Thinh commune and the wards: Thai Binh, Phuong Lam, Tan Thinh) and 4 districts:  Da Bac (including the communes: Dong Ruong, Yen Hoa, Cao Son, Tien Phong, Vay Nua, Hien Luong and Toan Son, Cao Phong ( including the communes: Binh Thanh and Thung Nai). Tan Lac (including the communes: Ngoi Hoa, Phu Vinh and Trung Hoa, Mai Chau (including the commune: Tan Dan, Tan Mai, Phuc San, Dong Bang and Ba Khan). Core area for developing national tourism zone is 1,200 hectares (excluding water surface area).
Day 1 : Hanoi – Hoa Binh Lake – Mai Chau (L-D)
The tour starts from Hanoi at 08.00AM. A smooth drive will take you along beautiful rural scenery toward Hoa Binh province. There, just few kilometers from Hoa Binh city is an almost undiscovered village of Muong minority people located in an evergreen valley. An hour wandering around the villages will give you a chance to learn about their typical lifestyle and tradition. A home lunch with local specialties and taste will then be served in a Muong wooden house on stilts. After lunch, a short drive will take you to the Hoa Binh lake's boat dock. Here you will take a cruise on one of the most picturesque lake in the country. The lake covers an area of 208 square km and the total length of 230km. Hoa Binh lake, part of Black River and is the largest man made lake in the country, was formed after the building of Hoa Binh hydro power plant. It is so beautiful lake with hundreds of rocky or forested islands emerge up from the tranquil emerald water surface, boasted as Halong bay on the mountainous area.
The cruise with breath taking scenery will finish after nearly two hours when the boat reaches the dock and a short drive through mountain path will then take you to Mai Chau. Here, your host with beautiful friendly smile will welcome you to their home that built in excellent harmony of rural and natural scenery.
Take a stroll around the village to learn and experience the rhythm of local's daily life or just relax with a drink next to the pond and rice paddy to watch the sun setting down behind mountains.
Dinner is served with local taste and great hospitality, followed by a traditional music and dance performance.
Overnight in the local traditional stilt-house. (The home stay accommodation consists of comfortable curtained-off sleeping areas in one long room; all bedding and mosquito nets are provided).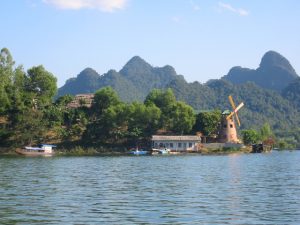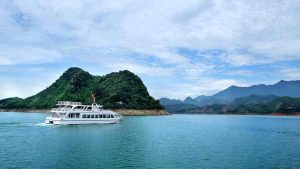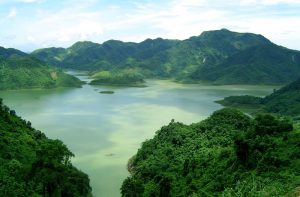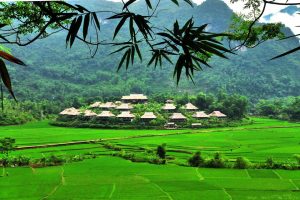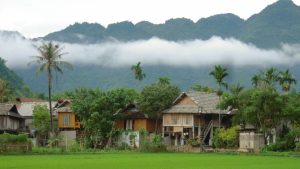 Day 2: Mai Chau – Hanoi – Departure (B-L)    
Mai Chau Valley – 2days Start this morning with a light trek around the Mai Chau Valley. You will have chance to learn more about local life and tradition as well as to have local interaction with the people. Come down to learn how people work on the farm and if you want, why not join in with them.
Come back to the house for lunch and a short relax before begining the journey back to Hanoi. This time we will take the drive on another way with superb view of mountains and forest until we get to Hoa Binh city. Just stop anywhere for great photos if you like.
The trip ends in Hanoi in the late afternoon at around 5.00PM.
End of service